The Community Activist
UrbanTrailRunners San Diego
Run for Justice
Run For a Cause.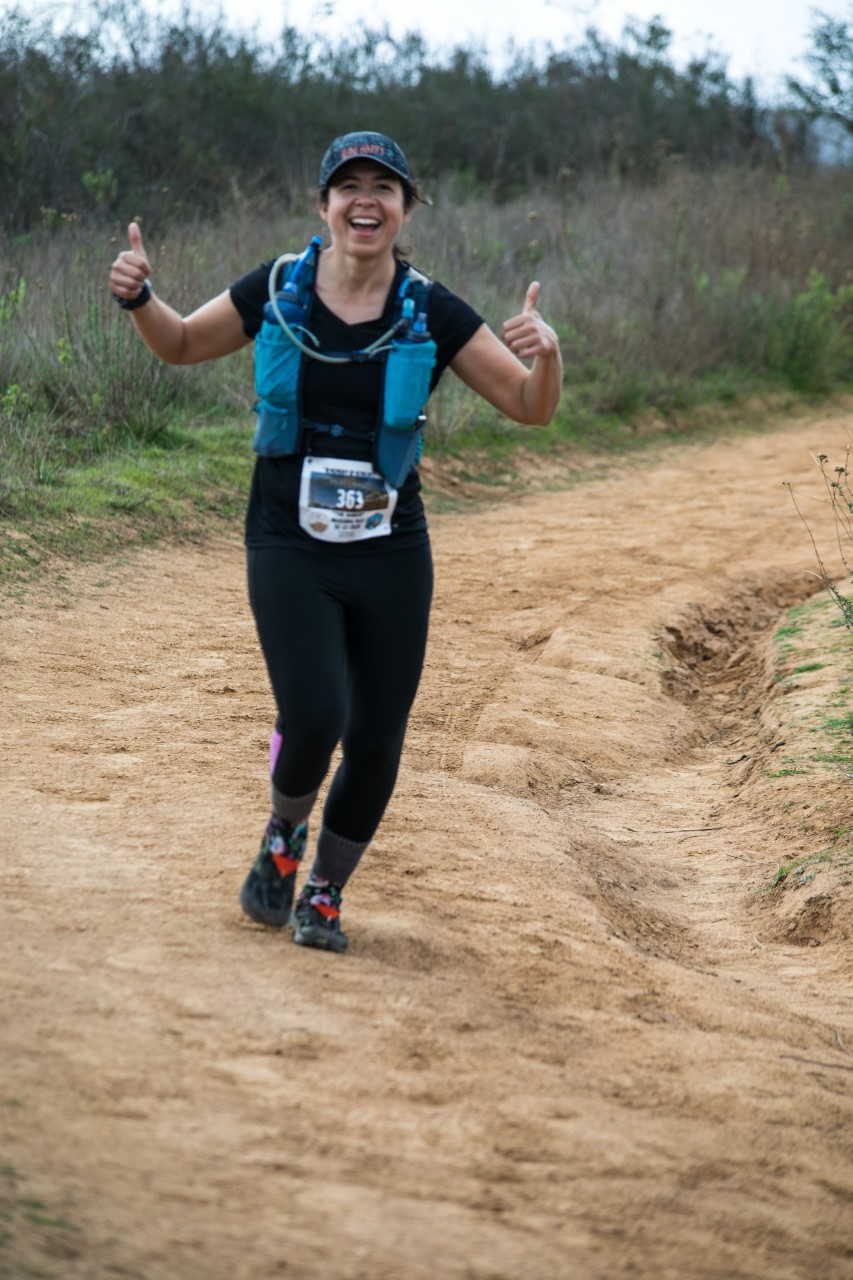 I started running in high school as more of a way to stay in shape for soccer since that was my sport. I played midfielder, left forward, and goalie. Our soccer team wasn't exactly stellar, but I had a lot of fun! When I tried out for the track team I didn't think I would make it or even muster up the strength to get through what we called "hell week." Being surrounded by track stars like Lana Garner, Ms. Starla Henderson, and later Ms. Monique Henderson (some of whom would eventually compete in the Olympics) was extremely intimidating and I almost gave up. I thought I was fat and slow - I lacked the sleek physique and muscular legs of my peers. But when coach said to me at the end of the week, "you made it," I almost cried. I realized that this was a different team. My perspective about running being an individual sport changed in that very moment - we were a family - and it didn't matter what you looked like. If you put in the work, you kept a positive attitude, you could be great and we all shared our individual victories as collective victories for the whole team. That was the feeling I got and it was very empowering coming from a white male coach. He immediately saw my strengths on the track - I did not see what he saw but he did. I wasn't a sprinter, but the longer the distance was where I felt my strongest. So he had me try the mile (I burned out quickly in that) and then we settled on the 800m and that became my event. I actually HATED it! It was tough. But I learned so much from it and I eventually learned not to fear that distance, because later in life, it would actually help build my endurance. Coach made it a point that we train together with the sprinters, the jumpers, and throwers, it didn't matter your event. Sprinters and hurdlers hated running longer distances and we hated doing 4x400m sprints. But we all realized that mixing it up a bit not only made us appreciate our other teammates but it actually helped our training and we became stronger. Stronger together. Later coach had me try out for the cross-country team. What the heck was that? I showed up one day at Morley Field and coach made us run some trails. There was something about being outside on the grass, feeling the soft dirt under your feet and being in nature that made me feel at peace. I also saw that I did much better running 3 miles instead of just one. Maybe it was that I just had that extra juice in my body that I didn't know about. I wasn't fast though, but our team made it to the local Division Championships my senior year. To be part of that experience was truly memorable. Ms. Monique Henderson was on the team that year with us and it was truly an honor to be in her presence on the trails. (Little did we know that she would go onto win a gold medal in the Olympic Games in Athens in 2004 and 2008 in Beijing!) We were all young and we didn't know what the future was going to bring. The world was our oyster.
Well life happened. I went to college and running took a back seat. I forgot about it. I got busy. My grandmother died. Had a very difficult relationship with a boyfriend, etc. etc. I moved back to San Diego after school and started working and getting involved in local politics mostly. I always had this knack for community service and I always saw myself helping others. Both my mother and my father instilled that value in me at a very early age. I was quite the ambitious type and had eyes at one point going to law school or running for public office. I got this fellowship to work in Sacramento in the state legislature. I felt like I was in my element - helping to research laws and help people through the policy-making process. I soon landed my dream job working for an Assembly Member. Not even 3 months into the position I was abruptly fired and replaced with someone else. It was a painful experience. It was the first time I ever got let go and I didn't know the reason why or wasn't told the reason why. I just kind of accepted it, that that was the way things worked there. I hit sort of a low point. Here I was unemployed, looking for jobs, hoping that someone would employ me. Months had passed. It just hit me one day that I should just start running again. I signed up for this half marathon in Sacramento - Shamrock Half Marathon. I told myself I'm going to run a half marathon even though the most I've run was around the block. I was terrified. I didn't join a training program, didn't do a nutritional plan. Nothing. Didn't even buy shoes - just bought the cheapest running shoes I could find, laced up, and started running, putting one foot in front of the other. And I kept running. I lived a block away from the Capitol building and even though I had a beautiful park right across the street from me I didn't want people to see me running there. I was scared that maybe my colleagues would worry about me and say, "Why is she running laps around the building at all hours of the day? Is Sonia ok?"
So instead there was this park I decided to train at - McKinley Park - I ran every single day there, even at night. I was crazy. But you know the body has memory. It's like I could pick up easily where I left off. Running somehow helped keep me focused. It didn't solve all of my problems but it helped lay the framework for what I would use running for later in life. I knew that if I worked toward achieving something, just this ONE goal, I knew that I could do anything. So that day came. It was a COLD morning middle of March in Sacramento. My mother came all the way from San Diego to see me run that day. When I crossed that finish line it was the most amazing feeling. Along the way I didn't expect there to be so much energy and surrounded by cheering people. It brought me back to my high school days on the track. It really uplifted me.
I would later go through a series of challenges in life after that and running always seemed to be there to rescue me or get me out of these sticky situations. Then there came a moment in my life where running wasn't enough — and I realized that running alone, wasn't going to solve all of my problems. I had been looking at it in an entirely different way this whole time. I lost some sort of spiritual connection to it along way. I started to compare myself with other runners and thinking that I wasn't "good enough." I realized that I was still an addict and an alcoholic and even when I wasn't doing those things — my brain was still trapped in that OCD world. I read a remarkable book one day by one of the most inspiring ultra runners - the Dirt Diva (Catra Corbett) "Reborn on the Run" - tells her story about how she overcame addiction and her journey as an ultra-runner. For me hearing that story as told from another runner really helped me get through some difficult times. I didn't feel alone anymore. It opened up a whole world to me of running that I didn't even know existed. She still continues to inspire me. I also like to read other runners' stories about how they overcame life's challenges. Even though we all have different types of challenges - I think as a community of runners — we can all identify that running in itself is very therapeutic, especially when you're out in nature.
That being said, I had to retrain my brain to accept running as a vehicle for spiritual expression — what I mean by that is that when I run, it is for something other than myself, it is for a greater purpose. Whenever I'm out in the trail, I know that I'm not alone. I have to ask nature first for her permission to run on her delicate trails because sometimes the weather can change, or I will get lost, or run out of water. I'm powerless because nature is greater than me. But when I cooperate, nature uplifts me and shows me signs of clarity and gets me to my destination safely. It is the most amazing feeling to have. It's a feeling that is close to being with God.
As runners, we have to be more conscious of our actions toward others. We are the ambassadors. We are in the middle of a pandemic, and on top of that, our earth is suffering because of global climate change — all as a result of human actions or inactions. We will not be able to enjoy our trails in the future if we continue to run in our little bubbles and not think of our greater impact. Even the act of running itself has an impact on others whether we know it or not. Imagine being that sole black girl or brown girl running with white people, or being that overweight person running without giving a shit about what other people think. That's true power. She runs because she wants to run. But in a way, she's making a revolution happen. So even simple, random acts are meaningful in so many ways. That should be celebrated. That's what running for me is all about more than the medals, more than the Instagram photos, more than the accolades or celebration at the finish line. Life in itself is an ultramarathon whether we realize it or not. There are tools that we learn along the way that have nothing to do with running that we incorporate in our lives to make us better humans. It's that journey that we must embrace not just getting to the finish line. That journey is uncomfortable with all of its complexities - its ups and downs, its mistakes, its hard work - and celebration of the smallest of victories. All of these rolled up into one is what makes life worth living. There had been many dark times in my life where I felt like I just wanted to give up living altogether. But a little bird told me, "keep going.
--