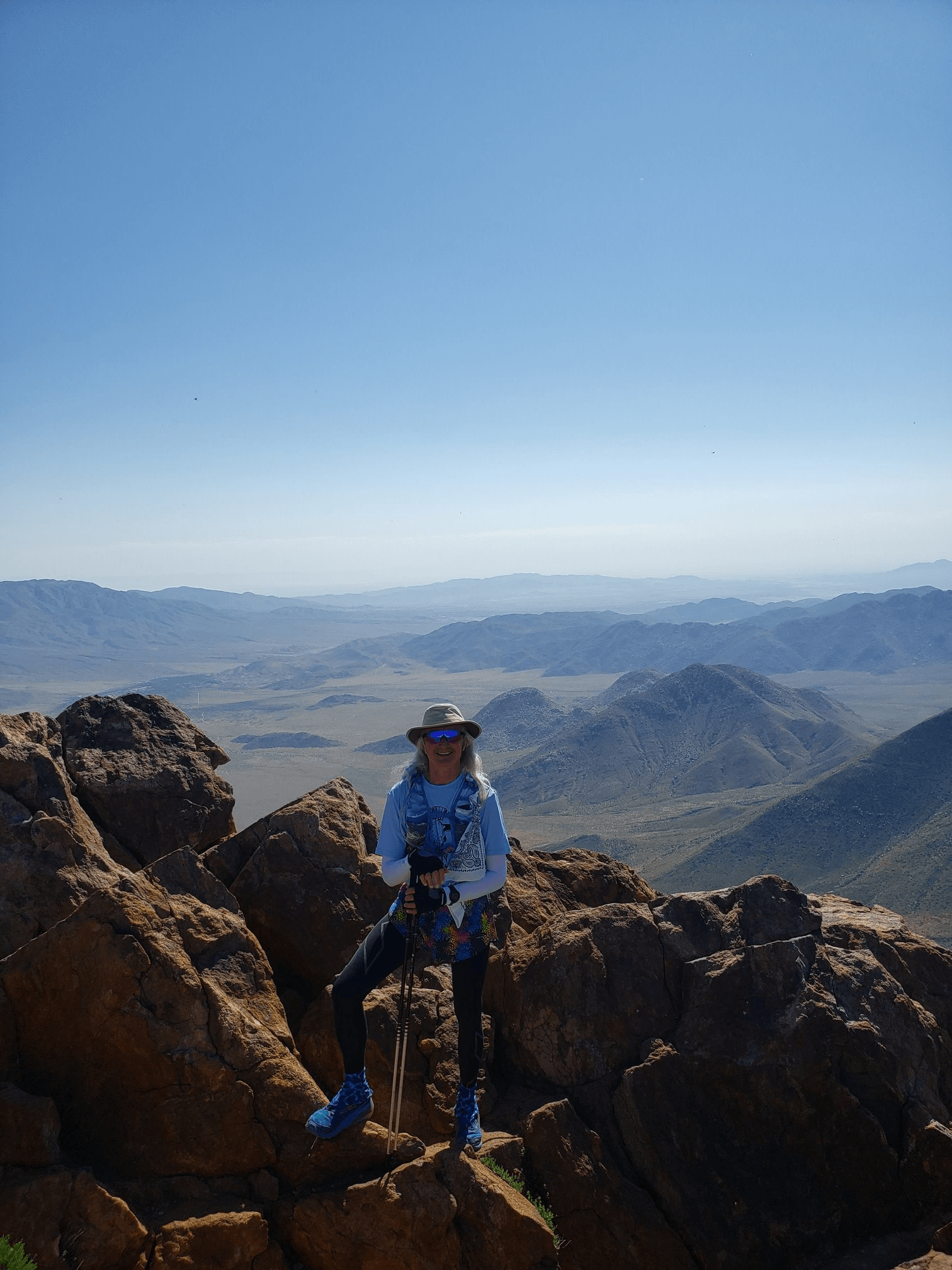 As I hit my 70th birthday on January 16th, folks were asking me what I had planned? My response was, to make a serious attempt to act my age as evidenced by the first two "pics", actually I hit the "track" at 5:45 this morning and in the "p.m." I'm checking out The Why by Billy Yang (A flick about running 100 milers), with a couple of "fine looking" lady runners that promised to sing Happy Birthday at the event! My lovely daughter, Ashley Greco, third "pic", gave me my first gift and her words were, "Dad I know what makes you happy, so here's a race entry to the Calico 50k! My answer, "Sweet"! When she was 6, she was standing in my lap, grabbed my face on both sides, turned it to hers and with the most innocent and beautiful blue eyes, asked me if I would stop "smoking" (cigarettes) for her Birthday. So, at 45 I traded in "smoking" for "running", poor health for optimal health and the well being that comes with a positive lifestyle and all of those awesome friends and experiences along way!
Running is a transformational tool, like prayer, yoga or meditation and I've seen it's practice turn so many lives around for the better, including mine! 607 races later I have 367 age division firsts, 123 seconds and 47 thirds, 2 overalls as a 50 y.o. and 4 in my 60's (small mom and pop varieties). One was up a volcano, around the caldera and back down into a small town in Northern New Mexico. So, what does this mean? It means I've been encouraged, supported, inspired and pulled along a zillion times when I was ready to give up, for this, I am forever grateful! My 91 y.o. mom called last night to wish me Happy Birthday and I told her that this was the happiest that I've ever been, because I'm surrounded by an awesome tribe of people and look forward to new adventures every day! She said that this made her very, very happy!

The beauty of any goal is that it's a point on the "timeline of life" that calls forth a better version of ourselves as we move from where we are to where we want to be!

Running Goals: 5:33 or better at the State Street Mile (actual 6:07), 1:35:00 or better at a Half (actual 133:28 at the Big Bear Half) and complete 3 50K's starting with the Calico 50K, Kodiak 50K and one TBD! (actual 21 Ultras since turning 70)

Life Goals: To be the person that encourages, supports, inspires and pulls his friends along a zillion times when they are ready to give up!

A friend of mine in NorCal that helped train me for my first "ultra" used to say, "Some people leave their footprints in your heart and I am one happy dude, because so many of you have left your "footprints" in mine!
Pic 1 and 2 Looking Ridiculous
Pic 3 My Daughter