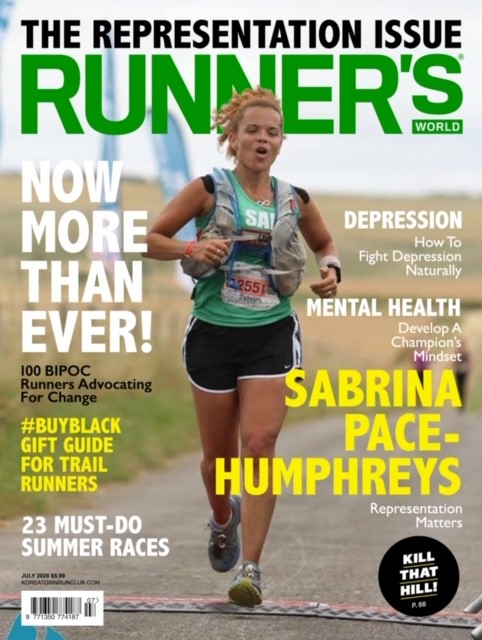 Sabrina Pace -Humphreys, the ultra trail runner, public speaker, co founder of Black Trail Runners and you could also see her in the front cover of the latest edition of Runner's World UK! Yes that is right, the United Kingdom. I came across her on Instagram when I was on the cover of The Representation Issue of Runner's World and she was also. We connected, she was nice enough to share her story, life journey of running and so much more with me and gave me the opportunity to share her story to the world. This is a short bio of her story to listening to more of her story go to the link here; https://drive.google.com/file/d/1taNdiRGR_B7l0Nz1DNDauLUAfKrQFuxt/view?usp=sharing or to my podcast https://anchor.fm/liverunboundless.com%20/episodes/Sabrina-Pace-Humphreys-The-Mother-Mum--Grandmother-The-Ultrarunner-and-so-much-more-eik86m
Sabrina Pace-Humphreys is a 42 year old mother of 4 and grandmother of 2. Sabrina, a mixed race woman, living in the rural countryside in the UK, has battled hr way through much of her life. Dealing with issues such as racism, growing up in a low income single-parent household as well as living with depression and anxiety.

Sabrina came to running after the birth of her fourth child and, initially used it as a way to lose weight and manage mental health following post-natal depression. By self coaching she lost the weight but also found a passion for running – completing a variety of distances from 5K to marathon. In 2016, after deciding to become sober, Sabrina increased her distance to ultra marathon while preparing to run the toughest footrace on earth – the Marathon Des Sables. In 2018, Sabrina completed this race as 13th UK woman to cross the finish line. This sparked something inside her to want to help others use running, and trail running in particular to manage their mental health and, of late, has led to her co-founding the fast growing community and campaigning group – Black Trail Runners. A trail running group for black people who are new to the discipline, or experienced – all of whom who are looking to connect, get support from and be inspired by black people on the trails.