What got me to running was that as a kid-junior high, I found I could run and it cost almost nothing. I ran my first 1/4 marathon in junior high and placed well. We grew up poor and I grew up in the hood. I was the last of 5 children and had no privileges, like dance, music or sports. I wanted to do any of them but didn't dare ask because I knew my parents couldn't afford it. In high school, I ran one or two years of track and one or two of cross country. Then my friends talked me into doing Flags. Activities in high school kept me in a better place. In my mind as a young adult running kept me healthy as my dad had multiple strokes his entire life and I don't want anyone to "have" to take care of me. My mom took care of my dad for about 25 years in various stages of his illness. I was around 22 when my dad passed away from his last major stroke. At that time he was in a convalescent hospital. Without running in high school - I think that I could have been one of those kids that just didn't finish high school and could have ended in a bad place but I found running. There is a private Facebook group "You know you grew up in Imperial" that one of my old "Homies" just started. Crazy how I thought that was cool. Surprisingly I am not in a lot of the photos because I was out running with either my cross-country or track team or something similar. I continued running off and on during my lifetime when time permitted to stay in shape and healthy. Between having babies to get back into shape. My first half marathon was the La Jolla half marathon when I was around 30. I had no idea what I was doing but, ran a under 2 hours and then didn't run races until my kids were almost completely out of the house. 2011 I ran my first half marathon again in under two hours. After that I fell in love with racing and wanted more. With racing I found like minded friends. I may stop racing but will never forget the good times and will never stop running.
2015 - THIS WAS WHAT I POSTED to my Facebook I think to just my SBSS group
Boston is finally here. 😊 I loved to run but racing was never something I thought about. When I joined SBSS and after my first race I was hooked. I wanted to do more, better, faster. After my third marathon and finishing at 4:01 is when I realized I really had a chance to "qualify" for Boston. I had cut around 17 minutes off my first marathon so now I had to cut 6 minutes if I wanted to qualify but that seemed like a lot. We just happened to meet Meb after running Carlsbad race at Mountain Hawk park and I told him I wanted to qualify and told him how much I had to shave off. He said, yes you can do it. Just like that and I started to believe. My running BFF recommend we run CIM. A great fast course and a great Boston Qualifier. I agreed. After months of training, I qualified. That was my initial goal, then to get in, now to finish strong. I have put in many miles but never alone. During the week, Johanna and Rosy were training with me when they could. They would come to me just outside my home. I really can't think of a time that Nellie didn't run my long miles with me and lots of times Rosy and Johanna joined too. The support was always outstanding. SBSS is truly an extraordinary group. Martha Rodriguez you rocked my world 😊 in the best way possible. I am going to do my best and be thinking of all of you all through this amazing race. I'll be wearing my pink SBSS shirt and be wearing it proudly. Love you all. Below is the swag I picked up at the expo and I also ordered my first shadow box;THANKS TO SBSS's GENEROSITY 😍
THOUGHTS: THIS IS MY RACE. With racing I've learned that less is more. Less clothes at the beginning of the race. No long sleeves or pants unless absolutely freezing (like at CIM). Tank if possible. Less thoughts in my head. Get rid of those doubts. Take off the headphones now and then but not when there's a person trying to talk to you and messing up your pace.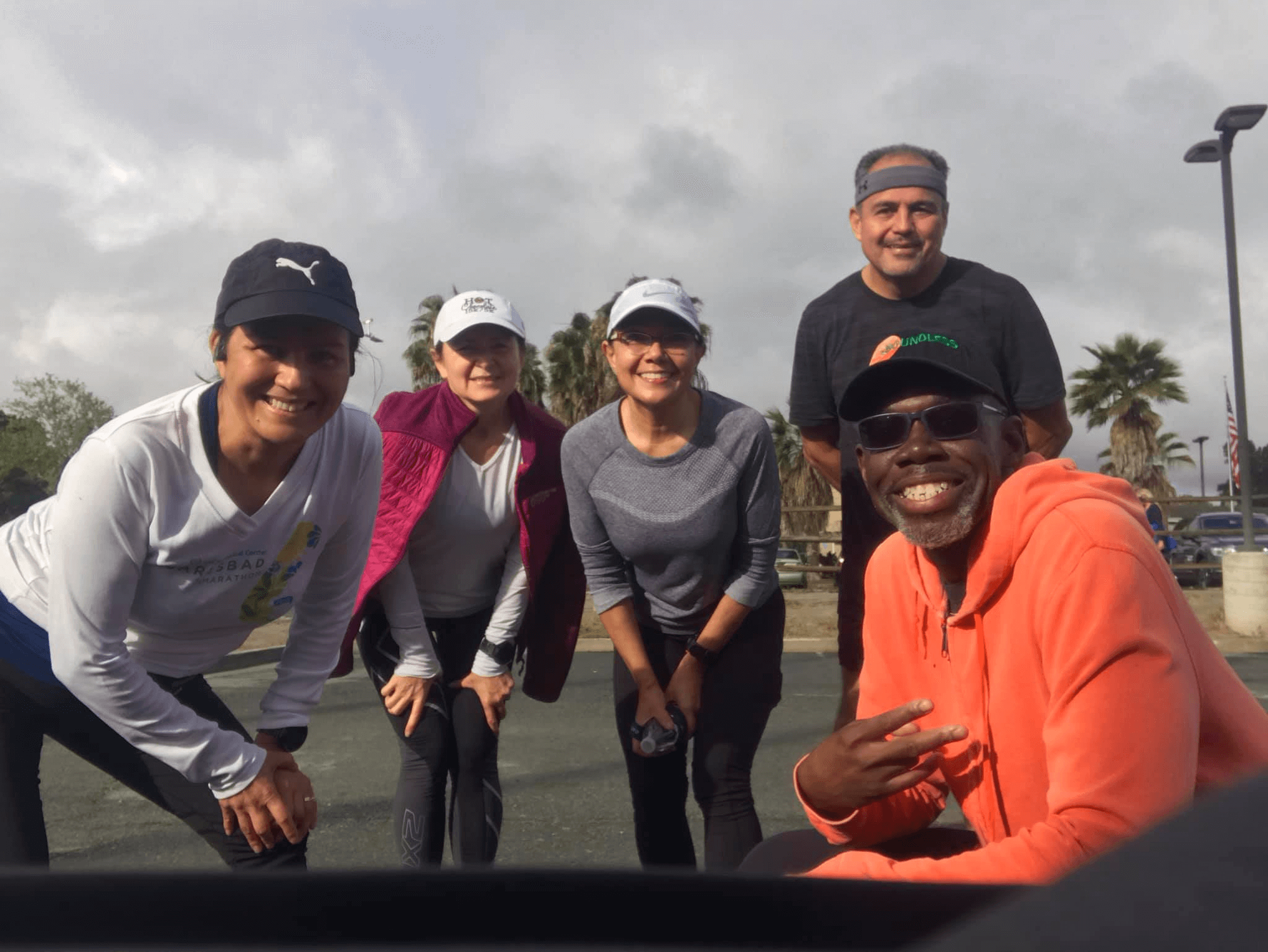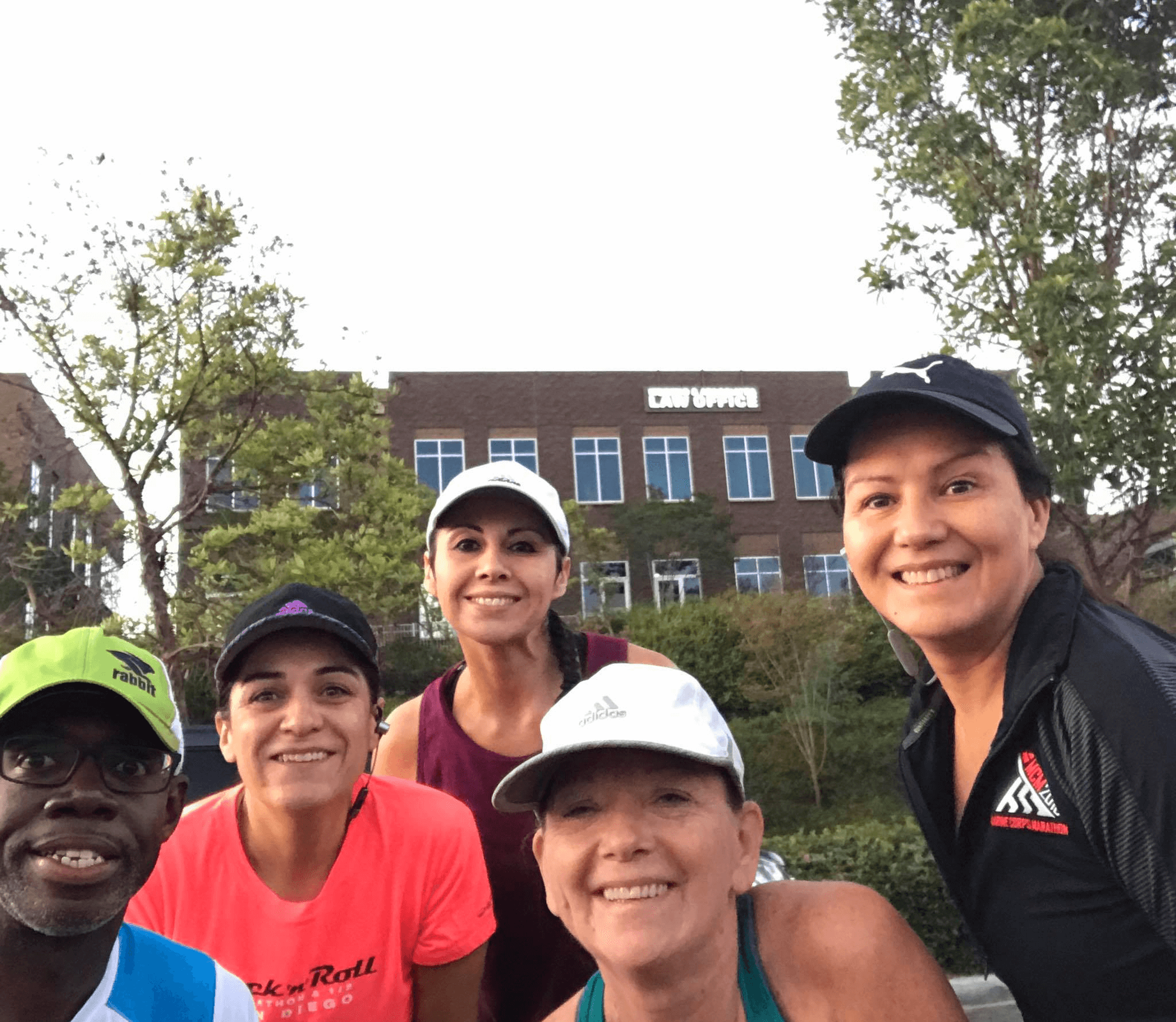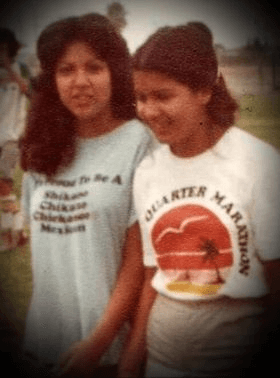 That was my first quarter marathon shirt. The first race I ran.