Name: Marielle Hall
Sport: Track and Field
Event(s): 5,000-meter, 10,000-meter
DOB: 1/28/1992
Birthplace: Philadelphia, Pa.
Hometown: Mount Laurel, N.J.
High School: Haddonfield Memorial High School (Haddonfield, N.J.) '
College: University of Texas '14,
Government Personal Bests:
1500m: 4:10 5000m: 15:02.27
10000m: 31:05.71
Career Highlights
2016 Olympian (10,000m)
Four-time World Championship team member
2014 NCAA Champion in the 5,000m
Three-time All-American the University of Texas

One of the premier 5,000m/10,000m runners in the US, Marielle began her running career as an elite middle distance runner. While attending high school in the Philadelphia suburb of Haddonfield, New Jersey, she represented the US for the first time at the 2009 World Youth Games in the 800m. After high school Marielle went on to the University of Texas, where she began as a middle distance specialist. She soon realized that her abilities lay in the longer distances, however, as her two All-American performances in Cross Country demonstrated. Marielle earned one All-American honor in track during her college career, but she made it count, winning the NCAA Championship at 5,000m in 2014. After college, Marielle moved back close to home, training in Philadelphia with Derek Thompson and the Juventus Track Club, a local youth organization created in 1993. The program, which began originally as an athletic program where youth are not only taught the fundamentals of track, but also life skills that assist them throughout their educational experience and beyond, has emerged as a home base for regional, national, and international athletes. A late bloomer at the NCAA level, she met with immediate success as a professional, making the World Championship team over 5,000m in 2015. A year later she confirmed her status as one of America's elite distance runners by becoming an Olympian over 10,000m. Marielle moved to Portland and joined the Bowerman Track Club in the fall of 2017 and has been a wonderful addition to the professional squad. She represented the US at both the 2019 World Cross Country and Track and Field Championships. On the track in Doha, she became the 6th fastest American woman of All-Time by running 31:05 to place 7th in the 10000m. Fans who only watch her race might know her best for her graceful running form and determined, impassive face, but to her teammates she's best described by her sense of humor and infectious laughter. She is a big sports fan and may or may not have worn an Eagle mask through the airport after Philadelphia won the Super Bowl in 2018. She finished second in the Great BTC Chili Cook Off of 2018, but in quintessential fashion has not accepted defeat and is appealing the decision. Marielle's sister Simone and Simone's husband Brian live in Washington, D.C. Her parents Racquel and Clifton Hall, both natives of New York, have been in New Jersey for over 30 years. Though none of her family members identify as runners, she enjoys a rich community of support from family and friends who have grown to love the sport.
Running is my biggest passion. Other things that interest me include: race, identity, the environment, alter egos, music, and the intersection of sports with, art, fashion, and design. I'm an explorer! Maintaining curiosity about the world around me has allowed me to push my limits in a sport I love.
Click on the pic right below and listen to her interview with Kenneth Pinckney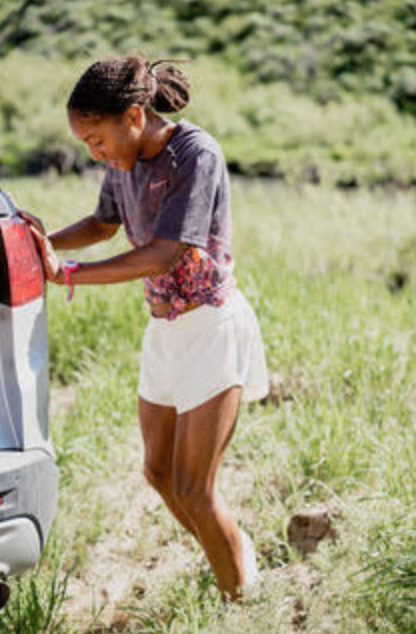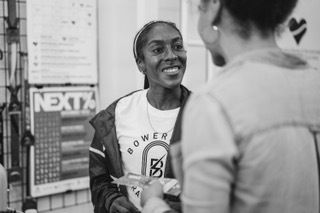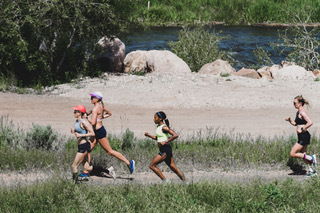 Photo credit @cortneywhite