Dustin Gonzalez
Strongman Athlete
Father
Navy Combat Veteran-Navy Hospital Corpsman
RWB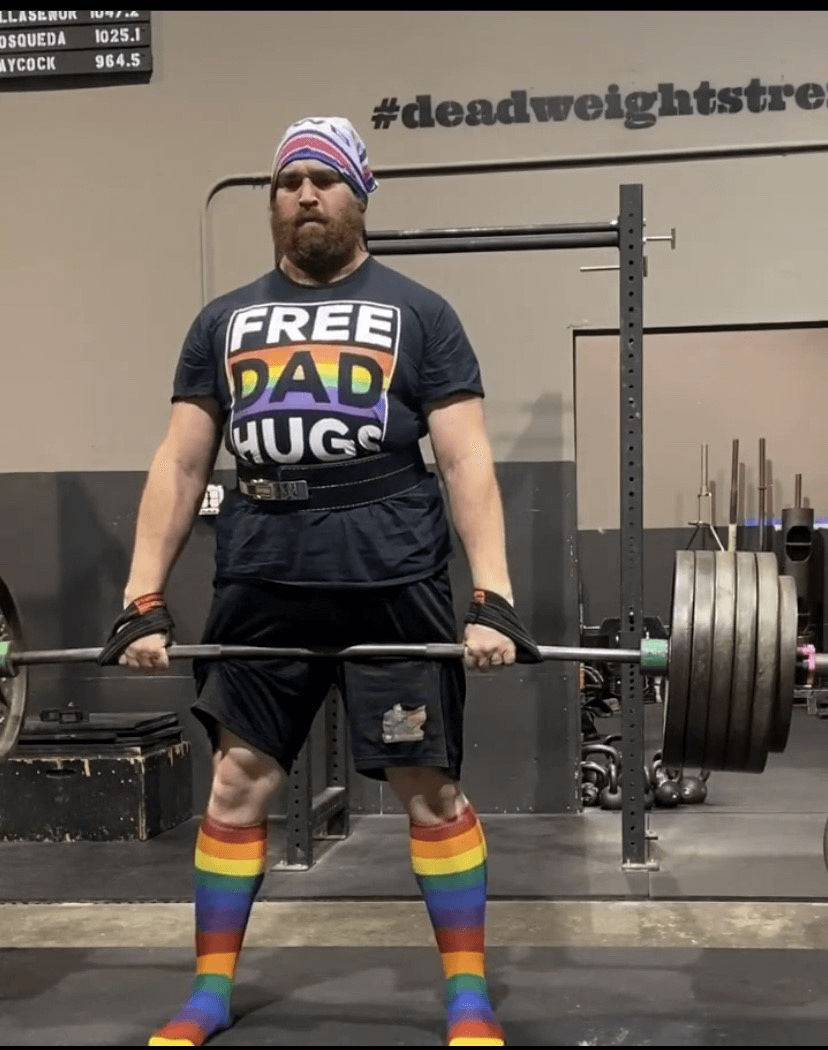 565lbs deadlift
Hello there, my name is Dustin Gonzalez, I am a 6'6 350lbs amateur strongman athlete, father of 2 autistic daughters, husband, Navy Combat OIF Veteran as Navy Hospital Corpsman stationed with 2d Marine Division. I am a Puerto Rican and European mixed mutt, born in the south raised in Brooklyn, NY and currently residing in beautiful San Diego, CA. Here is my answer, in long form, to the question "Why do you lift such heavy things for fun?"
have been dealing with a lot of trauma and emotional things that men are supposed to deal with in silence. This post will not be your regular "happy I am doing what I do" "This is my saving grace" "this is my safe place". This post will be baring my soul sharing some details I've never shared in public and I hope it helps somebody else do the same.
Why I lift heavy things? Ugh short answer I found out I am good at it. Like really good. I love lifting, it allows me to have the confidence to do things that others might fear. Robert Oberst said in an interview once "There are people who like to lift, there are people who take it seriously, power lifters and then there's the select few who want to pick the heaviest object up and move it, those are strongmen and women." I have been told I'm country strong pretty much my whole life. Country strong as defined by Dustin Gonzalez, go over a get that bail of hay and move it. I mean I tried being a runner and I didn't really enjoy it. It didn't give me the emotional release that lifting does.
Why I lift? I carried and still carry a lot of emotional stuff in my heart and my gut. I was told from a young age and through manhood, really until I was about 33, currently 36, that men aren't emotional. Emotion equals weakness and the last thing you are is weak. I grew up in Brooklyn, NY, home to the best boxers whoever fought, some of the toughest street gangs on the planet, home to the toughest everyday people. On those streets showing emotion will get you eaten up. No that isn't a typo I meant eaten not beaten. So, what happens when not showing emotion or the allowance vulnerability do to a young man? It makes him quiet and reserved. What does that mean for a 17-year-old whose 6'5 280lbs with a full beard, hoodie and baggy jeans with Timbs? He's a monster and bully. Nothing could be more wrong.
How does a guy with the biggest heart in the world get told to close it off and never let it show pain? Why as men do not allow us to be vulnerable? Why do we stuff it down? I am a strongman because of the family it gave me. The love I have been shown. The emotional level of crying into my towel after lifting 505lbs 4 days before my 36th birthday. Having 4 men who watched and cheered me on, hug me as I cried and give me love. That's why I lift. In that sport everybody is given the same bar, you either grab it or you don't. However, everybody competing against you is cheering you on and coaching you.
When I was in the military, I had the privilege of deploying overseas with the Marine Corps Infantry, where we saw a lot of death and dealt with a lot of turmoil at young ages and were expected to be "normal" when we came home. Nobody really took the time to sit us down and makes us release things we held in. Far too often we see in movies as men who can cry and be vulnerable after seeing a horrific event. I lift to allow myself to break the bottles of turmoil, self-doubt, self-hate, survivors guilt, failed suicide attempts, failure in general. Often, I felt there was the expectation of being this amazing mountain of a man and to be "perfect" "unbreakable" "strong". I just did not realize I had defined those words incorrectly in my mind.
The iron judges everybody the same, HARSHLY. You either beat it or you don't. In running they say just put one foot in front of the other. In weightlifting I hear lift angry. I agree, when we get angry, we get strong. So, I challenge those of you looking for an outlet for whatever emotionally is getting to you, get your shoes on and walk, run, ruck, hike, lift, take off your shoes and swim. RWB is a great organization and team, look to them if you are veteran missing the family the military once was. Feel free to look me up on Instagram and follow my journey Mr_Dustincredible shoot me a message if you like.
Very Respectfully,
Dustin Gonzalez
C:864.978.3071