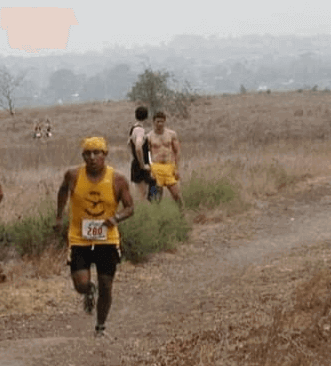 Hi Kenny:
Where do I start? Running is/has been a very big part of my life. Running is passion and way of life. I could spend all day talking with you about it.So for time's sake here is a small synopsis of how running has shaped my life.
High School: Senior year (and only year I ran XC),number 1; number 2 runner on undefeated State Cross Country Championship Team.
College: 4 year letter winner in Cross Country, 4x All Conference team (1st team senior year),3x Team Captain, 3x team MVP, Individual qualifier Senior year for Nationals.
Post College: hundreds of road races from 1 mile up to marathons(5).
Running has allowed me to travel and see much of our great country from Hawaii to New York (18 different states so far).
But most important, running has allowed me to meet some amazing people, make great friends, and has afforded me the opportunity to share my passion and knowledge with other runners that have allowed me to coach/train them to qualify for Boston marathon,improve their running, get in shape and to enjoy the journey of running. To be passionate about their running, to be proud of their running accomplishments be big or small. Stay positive, work to stay healthy. It really makes me proud when you all meet/exceed your goal(s) and regardless if they are big or small. Sometimes just being able to run nonstop for 3 miles is just as big an accomplishment as meeting a Boston marathon qualifying time. Running has given so much to me besides wins, personal bests, healthy body/mind, stress relief.I could go on and on. I hope this is somewhat you were looking for.
I know I have enjoyed watching your journey from novice runner to an experienced runner, who loves to share your joy and passion for running with others too. You motivate others just by doing what you do, leading by example! You have a great attitude and contagious spirit and energy about you that inspires others. I am very proud of you and look forward to your further accomplishments.