USA Track & Field Level 2 Coach
Head Cross Country & Track Field Coach -San Diego Jewish Academy
Certified Personal Trainer, Youth Exercise Specialist & Group Fitness Trainer at National Academy of Sports Medicine
Race Director & Deputy Athletic Director - Team RWB San Diego
F45 Training - Veterans Impact Program 45 Education Team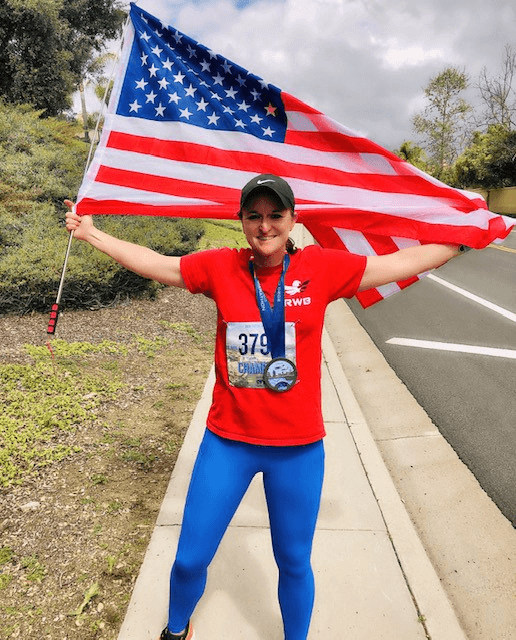 Heading into the 19th mile of the 2016 Suja Rock 'N' Roll San Diego Marathon, I was 6 minutes under Boston Qualifying Time and holding strong. I felt confident and swift as I focused on each breath that drew me closer to my life-long dream of qualifying for what I consider to be the pinnacle of long-distance running events. All those long runs, hill repeats, core work, intervals, push-ups, strides, 5 am workouts on my treadmill facing the wall but seeing the finish line in my head…and this was it. I had it. Nothing could stop me now. And as quickly as I felt on top of the world, I felt my race unravel as the cramps began to roll through my quadriceps...my hamstrings…and my calves. The pain was so intense as my legs literally stopped working. As I stared down at the legs that could no longer carry me, I thought to myself, "So that's it. You're done. There is no way that you can finish the 6 plus miles of this race."
I had a good cry, I called my little sister, and then I told myself, "Wait…you've got this. You've never not finished a race in your entire life. You've never chosen to give up before-even when faced with the toughest mountains before you-and today is not the day when you change that reality. And even if you have to crawl across that finish line – you will finish." So I closed my eyes, I told my legs to go, and I ran with all of my heart.
Crossing the finish line of the marathon that day, and overcoming the challenges and obstacles that I faced, is truly a metaphor for my life – as my journey to this point has not been straightforward nor easy. I faced incredible life challenges and obstacles as I walked into the Preseason Cross Country Meeting at Santa Rosa High School the Summer before my Junior Year. Dealing with a myriad of problems and personal struggles resulting from the traumas of a broken home and a broken family, I walked into that meeting and was met by smiling coaches, parents, and athletes, who welcomed me to the Cross Country Team with open arms. Their daily support, their confidence in me, and their unwavering vision of the athlete and person I could become, carried me through some of the toughest years of my life, and helped me go on to have successes way beyond those I achieved on the cross country course and the track and field.
My coaches' incredible teaching philosophy and the culture they created for the team helped me overcome the greatest challenges to reach my full potential. They gave me the encouragement, the support, and the tools that I needed to graduate high school at the top of my class, to compete at the California State Cross Country Championships, to go on to do great things as a college student at the University of California, Berkeley, and to reach new heights in my personal and professional life. And they instilled in me a life-long passion for running, fitness, athletics, and coaching, and a desire to give back, to pay it forward, and to support other athletes of all ages, backgrounds, life circumstances, and ability levels, as they work to achieve their own goals in athletics, academics, and in life.
I have dedicated my life to coaching athletes by leading with my heart, by leading through example, by leading through building strong, positive, authentic relationships with the people around me, and by leading with integrity at all times. I've been so blessed to have the opportunity to support young student-athletes as an Elementary and Middle School Physical Education Teacher, as a Youth, Middle School and High School Cross Country and Track and Field Coach, and as a Personal Trainer. I've been blessed to serve Veteran Athletes and the Military Community as the Race Director and Deputy Athletic Director for Team RWB San Diego, and most recently on F45 Training's Veterans Impact Program 45 Education Team. And I've been blessed to have been given the opportunity to dedicate the past 2 ½ years of my life to working to become a USA Track & Field Level 3/World Athletics/IAAF 5 Track & Field & Cross Country Coach – so that I can be the best and most educated leader to every athlete and person I have the privilege of working with.
A mentor of mine once told me, "Don't talk about it. Be about it." Above anything else, that is who I have tried to be throughout my entire life as a runner, as an athlete, as a coach, and as a leader. I live by example, showing my athletes and everyone around me, that you should set your goals high, and you should never give up trying to reach them – even if you sometimes have to adjust your course along the way. Be open to accepting support, love, and encouragement from those around you as you go, and when your legs feel heavy - close your eyes and run with your heart. Because often, the most beautiful view comes after the most difficult journey.